Central bank rates seen peaking soon in Southeast Asia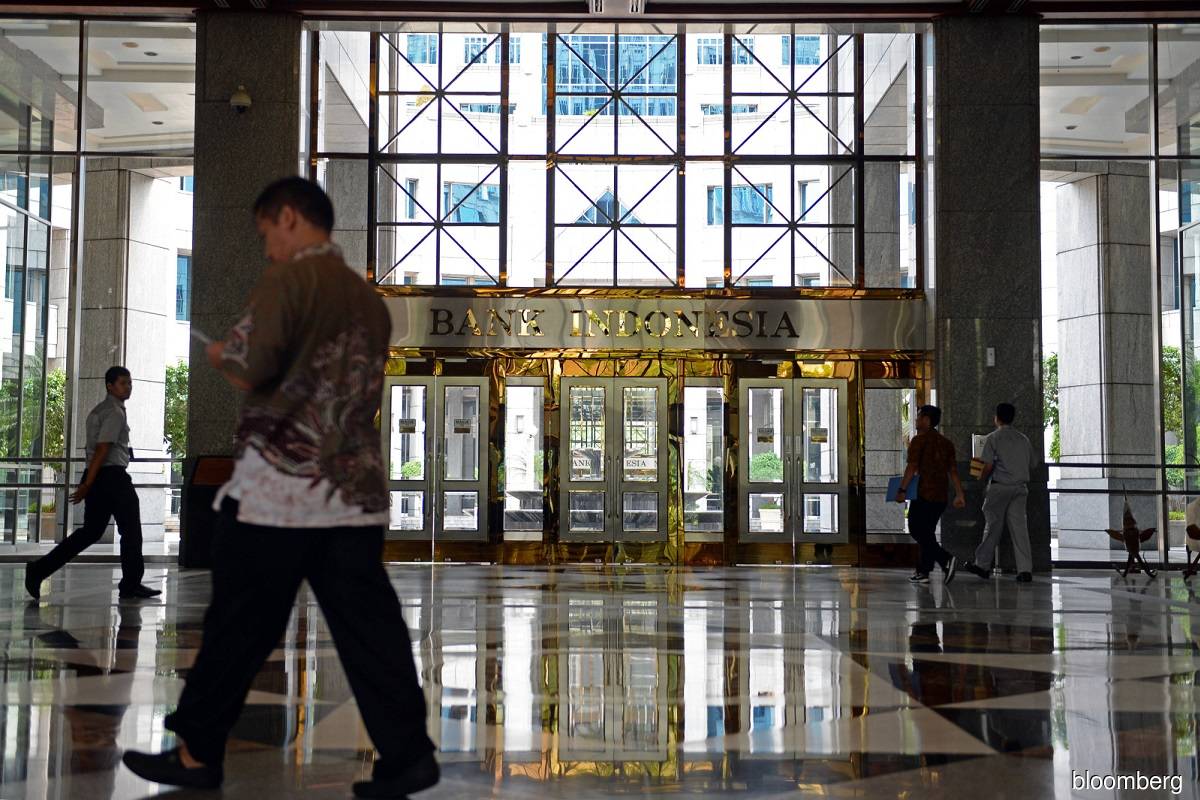 Southeast Asian central banks look like they are close to done fighting inflation using interest rates, with economists seeing the tightening cycle ending after 25 to 50 basis points of moves in the coming months.
东南亚中央银行似乎已接近完成使用利率对抗通胀的工作,经济学家预计,在未来几个月采取 25 至 50 个基点的举措后,紧缩周期将结束。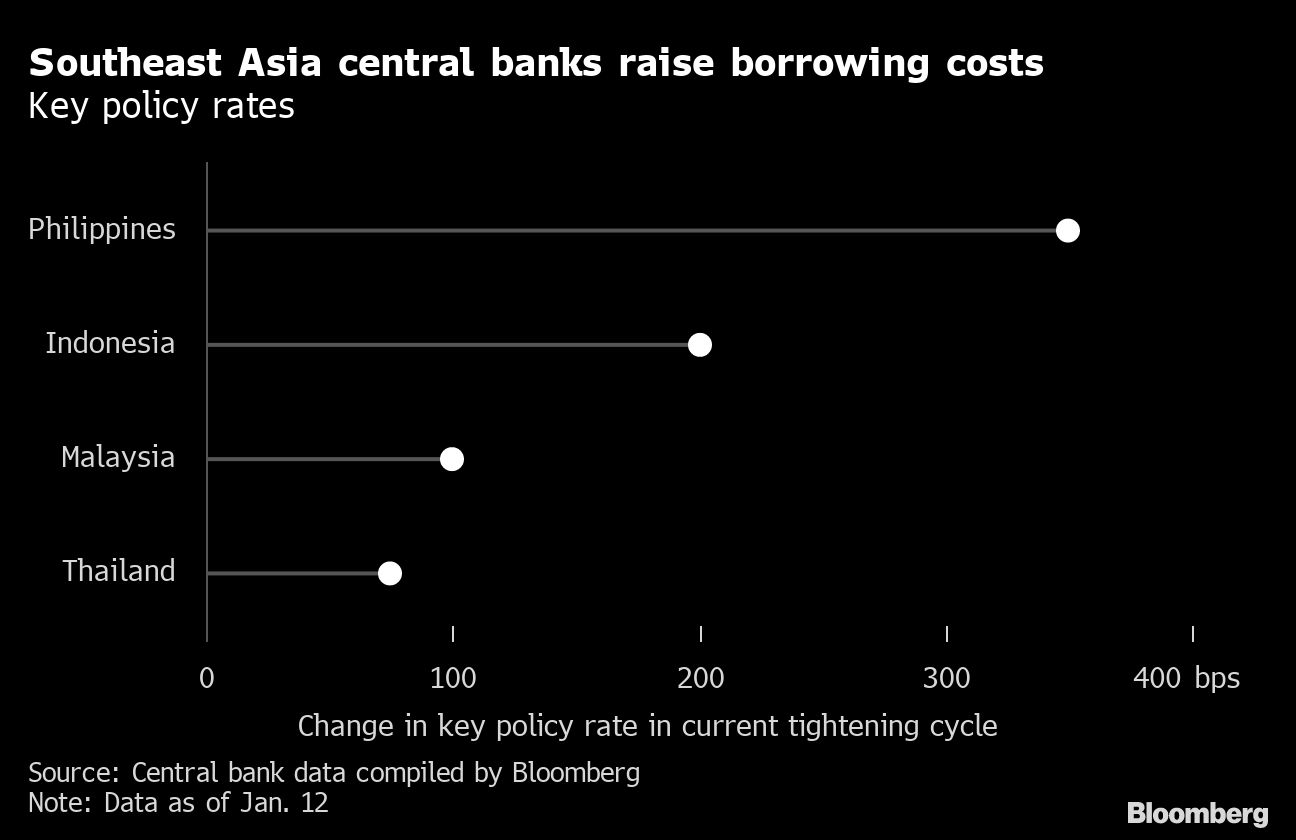 Policymakers in Indonesia, Philippines and Thailand will each raise borrowing costs by a total half point in the coming months before reaching their peak rates, according to median forecasts in a Bloomberg survey. Malaysia, meanwhile, will cap the rate hike cycle with one more quarter-point increase, the survey showed.
根据彭博调查的预测中值,印度尼西亚、菲律宾和泰国的政策制定者将在未来几个月内分别将借贷成本提高 0.5 个基点,然后达到最高利率。调查显示,与此同时,马来西亚将通过再增加四分之一点来限制加息周期。
While the region faced fewer headwinds than did peers in South Asia, policymakers reached for both conventional and unconventional tools in the past year to cool inflation, and support currencies pressured by the US Federal Reserve's (Fed) interest rate increases.
尽管该地区面临的逆风比南亚同行少,但政策制定者在过去一年中同时使用了常规和非常规工具来抑制通胀,并支持因美联储 (Fed) 加息而承受压力的货币。
With slowing inflation in the US keeping the Fed on track to downshift to a quarter-point move in its next meeting, many analysts surveyed expect rate increases in Southeast Asia to end this quarter. That should support fiscal authorities, as they look to preserve growth amid fears of a recession in some advanced economies.
随着美国通胀放缓,美联储有望在下次会议上降息至 25 个基点,许多接受调查的分析师预计东南亚将在本季度结束加息。这应该会支持财政当局,因为他们在担心一些发达经济体陷入衰退的情况下希望保持增长。
Here's what to expect from four of the region's central banks:
以下是对该地区四家中央银行的期望:
Bank Indonesia 印度尼西亚银行

Indonesia will likely continue with smaller increases in its key rate, given well-anchored inflation expectations and price gains already past their peak. Bank Indonesia (BI) is also seen wielding other tools like the Operation Twist bond-buying programme, and retain exporters' dollar earnings at home to support the rupiah.
鉴于稳定的通胀预期和价格涨幅已经超过峰值,印度尼西亚可能会继续以较小的幅度提高其关键利率。人们还看到印度尼西亚银行 (BI) 使用其他工具,如 Operation Twist 债券购买计划,并将出口商的美元收入留在国内以支持印尼盾。
"Taking into account manageable inflation and the Fed's terminal rate at around 5%, we think that BI would maintain its policy rate at 6% for some time except if recession risk prompts global central banks' accommodative stance," said Josua Pardede, the chief economist of PT Bank Permata. BI is scheduled to announce its rate decision on Jan 19.
"考虑到可控的通胀和美联储的 5% 左右的最终利率,我们认为 BI 将在一段时间内将其政策利率维持在 6%,除非衰退风险促使全球央行采取宽松立场," PT Bank Permata 首席经济学家Josua Pardede 表示。BI 定于 1 月 19 日宣布其利率决定。
Bank Negara Malaysia
马来西亚中央银行

Malaysia was the first to raise its benchmark rate in this tightening cycle in May last year, although the Philippines emerged as one of the most aggressive. Bank Negara Malaysia (BNM) has raised the key rate by a cumulative 100 basis points since to tame inflation. While the bank expects economic growth in 2022 to exceed the Government's 6.5%-7% projection, it sees expansion slowing to between 4% and 5% this year.
马来西亚是去年 5 月在这个紧缩周期中第一个提高基准利率的国家,尽管菲律宾成为最激进的国家之一。自那以来,马来西亚中央银行(BNM)已将关键利率累计上调 100 个基点以抑制通货膨胀。尽管该银行预计 2022 年的经济增长将超过政府 6.5%-7% 的预测,但它认为今年的扩张速度将放缓至 4% 至 5%。
"Following a final rate hike in January, we expect slowing growth and easing inflation to see an extended pause from BNM for the rest of 2023," said Alex Holmes, an economist at Oxford Economics Ltd. BNM will decide on the key rate on 19th January.
Oxford Economics Ltd. 的经济学家Alex Holmes表示:"在 1 月份最后一次加息之后,我们预计增长放缓和通胀放缓将导致国行在 2023 年剩余时间里暂停加息。"国行将于1月19日决定关键利率。
Bangko Sentral ng Pilipinas
菲律宾中央银行

The Philippines is likely near the end of its key rate increases, governor Felipe Medalla said on 12th January, after flagging 25- or 50-basis-point action in its next meeting. Bangko Sentral ng Pilipinas (BSP) could further slow rate actions, as inflation is expected to come off the boil, according to Finance Secretary Benjamin Diokno, who sits on the monetary authority's board.
1 月 12 日,菲律宾行长Felipe Medalla表示,菲律宾可能接近其关键加息的尾声,此前他表示在下一次会议上将采取 25 或 50 个基点的行动。金融管理局董事会成员、财政部长Benjamin Diokno表示,随着通货膨胀预计将结束,菲律宾中央银行 (BSP) 可能会进一步放慢利率行动。
Still, "given the elevated inflation rate for the most part of 2023, we believe that a rate cut is most likely only in 2024", said Alvin Arogo, an economist at Philippine National Bank, who forecast a terminal rate of 6.25%. The next BSP rate meeting will be on 16th February.
尽管如此,"鉴于 2023 年大部分时间的通货膨胀率升高,我们认为降息最有可能只在 2024 年发生,"菲律宾国家银行经济学家Alvin Arogo 表示,他预测最终利率为 6.25%。下一次 BSP 利率会议将于 2 月 16 日举行。
Bank of Thailand 泰国银行

Thailand will likely continue "gradual and measured" rate increases to avoid disrupting a recovery powered by a resurgent tourism sector. Bank of Thailand (BOT) assistant governor Piti Disyatat last month signalled a possible end to Thailand's tightening cycle in the latter part of this year, if the economy and inflation reach a balanced point.
泰国可能会继续"渐进和有节制"的加息,以避免破坏由复苏的旅游业推动的复苏。泰国央行 (BOT) 助理行长 Piti Disyatat 上个月表示,如果经济和通胀达到平衡点,泰国可能会在今年下半年结束紧缩周期。
The BOT, which raised the key rate by a total 75 basis points last year, "is in a position to deliver more rate hikes", said Enrico Tanuwidjaja, an economist at PT Bank UOB Indonesia. Thailand's next rate meeting will be on 25th January.
PT Bank UOB Indonesia 的经济学家 Enrico Tanuwidjaja 表示,BOT 去年将关键利率上调了 75 个基点,"有能力进一步加息"。泰国的下一次利率会议将于 1 月 25 日举行。