Malaysia's core inflation pressure persists despite CPI down for two consecutive months, say economists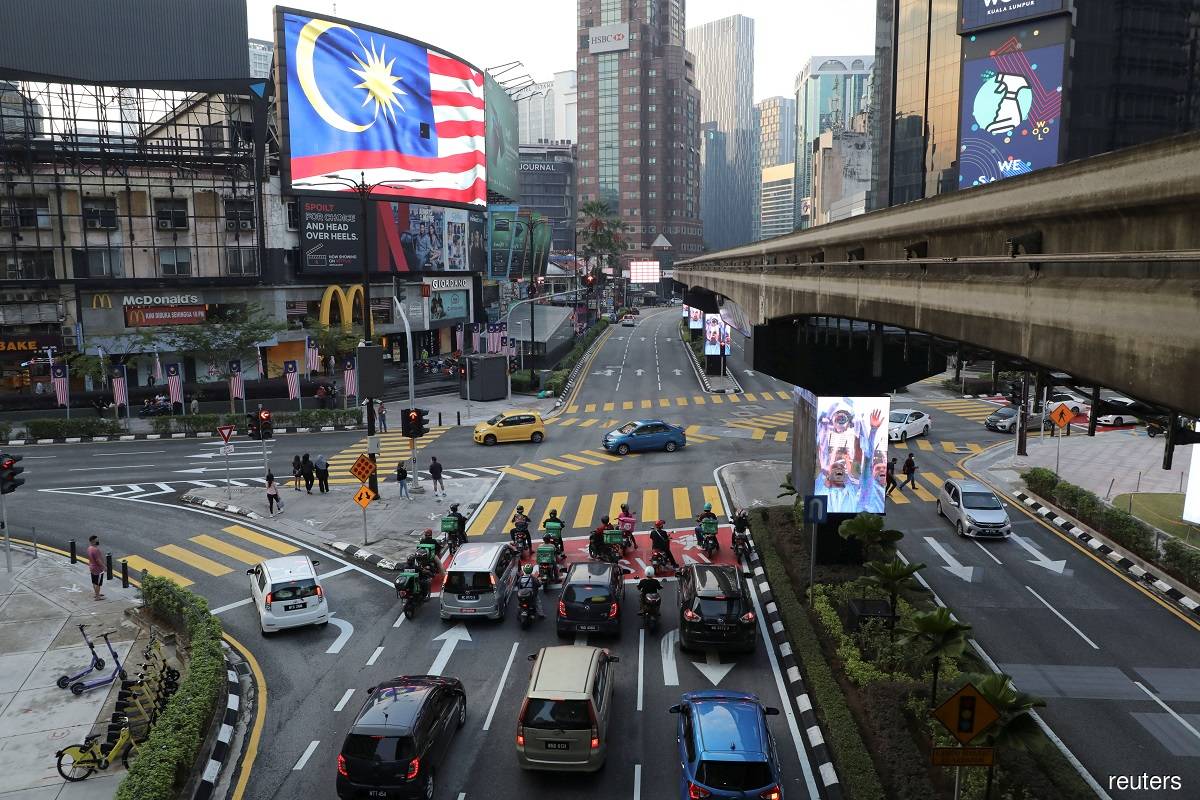 Consumer prices have dropped for the second consecutive month in Malaysia.
马来西亚消费者价格连续第二个月下降。
The Consumer Price Index (CPI), a measure of inflation, fell 4% in October, albeit at a slower pace compared with the 4.5% drop in September, partly driven by lower pump price of RON97.
衡量通货膨胀的消费者价格指数 (CPI) 在 10 月份下降了 4%,尽管与 9 月份的 4.5% 下降速度相比有所放缓,部分原因是 RON97 的泵价较低。
However, economists see the pressure on core inflation persisting in the near term, heightening the likelihood of more rate hikes, although they forecast inflation to soften in 2023.
然而,经济学家认为核心通胀的压力在短期内持续存在,增加了进一步加息的可能性,尽管他们预测通胀将在 2023 年放缓。
UOB Global Economics & Markets Research senior economist Julia Goh and economist Loke Siew Ting commented that core inflation shows no signs of weakening at this point as the year-to-date reading of 2.8% is close to the upper bound of Bank Negara Malaysia's (BNM) average full-year 2022 forecast of 2% to 3%, signalling the persistent build-up of demand price pressure as the economy improves along with higher wages.
大华银行全球经济与市场研究高级经济学家 Julia Goh 和经济学家 Loke Siew Ting 评论说,核心通胀目前没有减弱的迹象,因为今年迄今的 2.8% 读数接近马来西亚国家银行(BNM)的上限) ,2022 年全年平均预测为 2% 至 3%,这表明随着经济改善以及工资上涨,需求价格压力将持续增加。
"This will justify further pre-emptive moves by BNM over the next couple of months to anchor inflation expectations amid a continuation of Fed (US Federal Reserve) rate hikes and domestic political resolution that paves the way for pro-growth policy and reforms.
"这将证明,在美联储(Fed)继续加息以及为促进增长的政策和改革铺平道路的国内政治解决方案之际,BNM有理由在未来几个月采取进一步先发制人的行动,以稳定通胀预期。
"We reiterate our Overnight Policy Rate (OPR) call for a 25-basis-point hike at each of the next two monetary policy meetings in January (18th-19th January) and March (8th-9th March) next year, before taking a pause at 3.25% thereafter," they wrote in a note.
他们在一份报告中写道:"我们重申我们的隔夜政策利率 (OPR) 要求在明年 1 月(1 月 18 日至 19 日)和 3 月(3 月 8 日至 9 日)的接下来两次货币政策会议中每次加息 25 个基点,然后在3.25%的水平上暂停。"
RHB Investment Bank Bhd, which kept its CPI inflation headline forecast at 3.4% for 2022 and 3% for 2023, concurred that robust domestic demand combined with low real interest rates will continue to fuel pressure on core inflation, while external pressure from Fed implies that OPR normalisation will continue in the coming months.
RHB Investment Bank Bhd 将 2022 年和 2023 年的 CPI 总体通胀预测维持在 3.4% 和 3%,并认为强劲的国内需求加上低实际利率将继续给核心通胀带来压力,而美联储的外部压力意味着OPR 正常化将在未来几个月继续下去。
"Price pressure eased marginally for the month of October, but still remained elevated. There was slight relief from the supply side amid softening commodity prices in recent months. Demand side pressure stayed robust, driven by the continued strength in domestic demand," said RHB economist Chin Yee Sian and associate research analyst Wong Xian Yong.
 "10 月份的物价压力略有缓解,但仍处于高位。近几个月大宗商品价格疲软,供应方面略有缓解。在国内需求持续强劲的推动下,需求侧压力依然强劲,"经济学家 Chin Yee Sian 和副研究分析师 Wong Xian Yong表示。
In view of relatively strong domestic demand, MIDF Research raised its annual CPI forecast for 2022 slightly by 0.2% to 3%.
鉴于国内需求相对强劲,MIDF Research 将 2022 年年度 CPI 预测小幅上调 0.2% 至 3%。
"In the environment of elevated global commodity prices, inflationary pressure in Malaysia is affected by higher food inflation. We expect food price growth to record +5.5% this year, among others, attributed to further depreciation of US dollar [against the ringgit]," said the research house.
研究所表示:"在全球商品价格上涨的环境下,马来西亚的通胀压力受到食品通胀上升的影响。我们预计,美元(对林吉特)进一步贬值,今年食品价格将增长5.5%。"
For 2023, economists expect supply-push factors of inflation to soften, supported by anticipated firmer ringgit against the greenback, moderation in food prices, further easing of pressure in the global supply chain, and normalisation of commodity prices.
到 2023 年,经济学家预计,受预期令吉兑美元走强、食品价格放缓、全球供应链压力进一步缓解以及商品价格正常化的支持,通胀的供应推动因素将减弱。
On top of that, they foresee the unity government led by newly appointed Prime Minister Datuk Seri Anwar Ibrahim to likely keep the current fuel-subsidy mechanism as status quo.
最重要的是,他们预计由新任命的首相Datuk Seri Anwar Ibrahim领导的联合政府可能会维持目前的燃料补贴机制不变。
UOB's Goh and Loke projected that inflation in Malaysia will continue its downward trend through 2023, averaging at 2.8%, compared with the Ministry of Finance's estimate of 2.8% to 3.3%, assuming no changes in domestic policies, particularly fuel and electricity subsidies and the price cap for staple food.
大华银行的 Goh 和 Loke 预计,假设马来西亚国内政策(特别是燃料和电力补贴以及主食价格上限)不变,马来西亚2023年的通货膨胀率将持续下降,平均为2.8%,而财政部预计为2.8% - 3.3%。
"During the initial tabling of Budget 2023 on 7th October, there was mention of a gradual move to targeted fuel subsidies in the fiscal report but it was not mentioned in [former Finance Minister Tengku Datuk Seri Zafrul Abdul Aziz's] Budget speech despite the RM17 billion reduction for subsidies and social assistance.
"在 10 月 7 日首次提交 2023 年预算案时,财政报告中提到逐步转向有针对性的燃料补贴,但在 [前财政部长 Tengku Datuk Seri Zafrul Abdul Aziz] 的预算案演讲中并未提及,尽管补贴和社会援助削减了170亿令吉。
"Hence, it will be one of the main issues in the coming retabling of the Budget 2023 in January/February next year," they said.
"因此,这将是即将于明年 1 月/ 2 月重新制定 2023 年预算的主要问题之一,"他们说。
Further, the new government will give priority to addressing the issue of rising cost of living. Pakatan Harapan (PH) manifestos included reduction in toll charges, restructuring minimum wages, continued cash aid, incentives to increase food production, and tax cuts for investments in the farming sector, said Goh and Loke.
此外,新政府将优先解决生活成本上升的问题。Goh 和 Loke 表示,希望联盟(PH)的宣言包括减少通行费、重组最低工资、继续提供现金援助、增加粮食生产的激励措施以及对农业部门投资的减税。
"In addition to that, volatile global commodity prices, prolonged supply chain disruptions, and currency movements remain wild cards for the inflation outlook going into 2023," they added.
"除此之外,全球大宗商品价格波动、供应链中断时间延长以及货币走势仍然是 2023 年通胀前景的不确定因素,"他们补充道。
Likewise, RHB's Chin and Wong said eyes will be on possible changes in fiscal and monetary policies, as well as profound implications for the inflation trajectory under the new government.
同样,RHB 的 Chin 和 Wong 表示,人们将关注财政和货币政策可能发生的变化,以及对新政府通胀轨迹的深远影响。
"We opined that subsidy adjustments might still be possible in view of the decent economic performance, which allows for some room for policy support recalibration and fiscal consolidation," they said.
"我们认为,鉴于良好的经济表现,补贴调整仍有可能进行,这为政策支持的重新调整和财政整顿留出了一定的空间,"他们表示。
As guided by the PH manifesto blueprint, MIDF noted, the PH-led government may review monopolistic practices on several agriculture-related items with the idea of increasing output supply and lowering food prices.
MIDF指出,在PH宣言蓝图的指导下,PH领导的政府可能会审查一些与农业相关项目的垄断行为,以增加产出供应和降低食品价格。
"If the current fuel subsidies are kept as status quo, headline inflation is predicted to hover +2.3%~2.5% for 2023," MIDF added.
MIDF 补充说:"如果 当前的燃料补贴保持现状,预计 2023 年总体通胀将徘徊在 +2.3%~2.5% 之间。"