Shift in consumer purchasing behaviour as inflation hits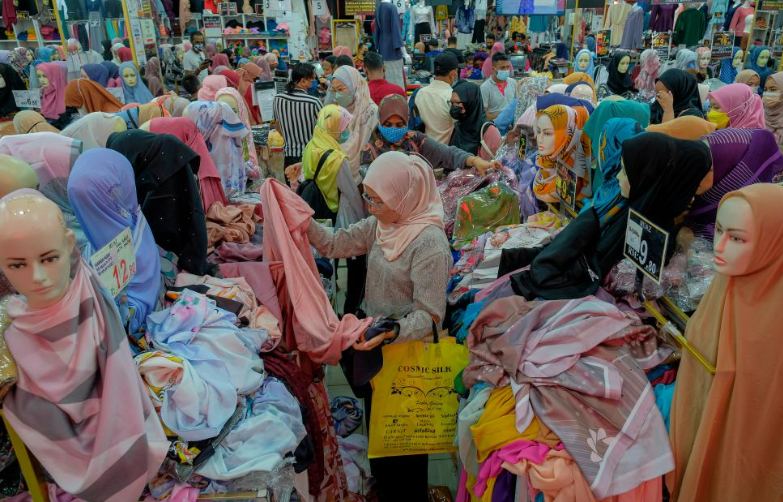 Consumers' purchasing behaviour in the country has been showing a declining shift as inflation, caused mainly by higher commodities prices, puts pressure on household budgets.
由于主要由商品价格上涨引起的通货膨胀给家庭预算带来压力,国家消费者的购买行为一直在下降。
The increase in world oil prices and the conflict between Russia and Ukraine have been seen as the main causes disrupting the supply chain and creating a ripple effect across the global economy, according to the Department of Statistics Malaysia (DOSM).
根据马来西亚统计局(DOSM)的数据,世界石油价格上涨以及俄罗斯和乌克兰之间的冲突被视为破坏供应链并在全球经济中产生连锁反应的主要原因。
It said that in March, the country's consumer price index (CPI) increased moderately by 2.2% to 125.6 from 122.9 in the same month of the preceding year, due to an increase in food inflation.
它说,由于食品通胀的增加,3月份国家的消费者价格指数(CPI)从去年同月的122.9小幅上涨2.2%至125.6。
The CPI is used to examine the weighted average of prices of a basket of consumer goods and services.
CPI 用于检查一篮子消费品和服务价格的加权平均值。
Malaysia's inflation, as measured by the CPI, surpassed the average inflation in the country for the period 2011 to February 2022 of 1.9%, official data showed.
官方数据显示,以 CPI 衡量,马来西亚的通货膨胀率超过了国家 2011 年至 2022 年 2 月期间 1.9% 的平均通货膨胀率。
Shoppers only buy basic necessities
购物者只购买基本必需品
According to Lulu Hypermarket regional director Asif Moidu Ahamed the basket value of consumers decreases when the shopper is cautious in spending and only buys basic necessities rather than buying unnecessary goods.
根据 Lulu Hypermarket 区域总监 Asif Moidu Ahamed 的说法,当购物者谨慎消费并且只购买基本必需品而不购买不必要的商品时,消费者的购物篮价值会下降。
"We can see consumers' buying strategy changing. They are now very controlled and buy only necessary groceries or fresh goods such as vegetables, fruits, fish or chicken," he told Bernama.
"我们可以看到消费者的购买策略正在发生变化。他们现在受到非常严格的控制,只购买必需的杂货或新鲜商品,如蔬菜、水果、鱼或鸡肉,"他告诉马新社。
He also observed that customers are buying in lesser quantities which would affect retail turnover.
他还观察到客户购买的数量较少,这会影响零售营业额。
In addition, Asif said the current market scenario, where many international brands are offering price reduction offers to attract customers, proved that customers' buying trends have changed in value items and they are highly selective in purchasing.
此外,Asif 表示,目前的市场情况,许多国际品牌提供降价优惠以吸引客户,这证明客户的购买趋势已经发生了变化,他们在购买时具有高度的选择性。
Russia-Ukraine war strain on prices of goods
俄乌战争对商品价格造成压力
SME Association of Malaysia, national secretary general, Chin Chee Seong said the Russia-Ukraine war is affecting the supply chain which in turn, raising the prices of goods.
马来西亚中小企业协会全国秘书长Chin Chee Seong表示,俄乌战争正在影响供应链,进而推高商品价格。
"The issue is further compounded by increasing logistical costs due to the dearer price of oil, which puts pressure on the manufacturing sectors.
"由于油价上涨导致物流成本增加,这进一步加剧了这个问题,这给制造业带来了压力。
"The war has very much affected us in terms of our supply chain, but mainly the higher commodity price adds on to the manufacturing costs of production as well as the cost of the product," he explained.
 "战争对我们的供应链影响很大,但主要是商品价格上涨增加了生产制造成本以及产品成本,"他解释说。
Call to increase wages
呼吁加薪
Giving his opinion on how to tackle the higher price of consumers' staples, Sunway University professor of economics Dr Yeah Kim Leng said household consumers would be less affected by the inflation with an increase in wages by 5 to 6%.
双威大学经济学教授Yeah Kim Leng博士就如何应对消费者必需品价格上涨发表了自己的看法,他表示,随着工资上涨5%至6%,家庭消费者受通胀的影响将较小。
"The expected time for the price of goods to return to normal is still unpredictable depending on the duration of the Russia-Ukraine conflict as well as the ongoing sanctions on Russia that affect the global supply of key commodities," he said.
他说:"商品价格恢复正常的预期时间仍然无法预测,这取决于俄乌冲突的持续时间以及对俄罗斯实施的影响全球主要商品供应的制裁。"
Yeah also proposed that consumers prepare for the rising prices of goods as it is expected to remain elevated for the rest of this year.
Yeah先生还建议消费者为商品价格上涨做好准备,因为预计今年剩余时间内价格将保持高位。
"What is important is that we note there will be higher inflation this year," he said.
 "重要的是,我们注意到今年的通胀将会更高,"他说。
In the United States, for example, consumer prices rose by 8.5% in March, slightly higher than expected and at the highest pace since 1981, CNBC reported.
例如,据 CNBC 报道,美国 3 月份消费者价格上涨 8.5%,略高于预期,达到 1981 年以来的最高水平。
Meanwhile, Yeah urged that the government should ensure there is no shortage of consumer items and the supply chain remains intact to prevent severe escalation of prices of goods.
同时,Yeah先生敦促政府应确保消费品不短缺,供应链保持完好,以防止商品价格严重上涨。
"It is important to make sure the supply chain remains intact and any pressure resulting from supply and demand can be measured either through subsidies or by expanding supply.
"重要的是要确保供应链完好无损,供需造成的任何压力都可以通过补贴或扩大供应来衡量。
"To ensure supplies are not disrupted, it could help by increasing production through incentives to boost production, for example, allowing the hiring of foreign workers to ensure that farm production continues," he added.
他补充说:"为确保供应不中断,可以通过激励措施增加产量来帮助提高产量,例如,允许雇用外国工人以确保农业生产继续进行。"
Manpower shortages remain a challenge
人力短缺仍然是一个挑战
Commenting on the issue of workforce, Chin said despite consumers cutting down on spending, the sales figures are still positive thanks to the re-opening of borders on 1st April.
在谈到劳动力问题时,Chin先生 表示,尽管消费者削减了支出,但由于 4 月 1 日重新开放边境,销售数据仍然是积极的。
He, however, said that manpower shortages may affect the ability of small and medium enterprises (SMEs) to ramp up their services.
然而,他表示,人力短缺可能会影响中小型企业(SME)提升服务的能力。
Chin said this major problem is being faced not only by SMEs but also in other industries such as factories, hotels and supermarkets.
Chin先生表示,这个主要问题不仅存在于中小企业,也存在于工厂、酒店和超市等其他行业。
"A large number of foreign workers have gone back to their countries and SMEs have been struggling to fulfil orders due to the lack of foreign labour.
"大量外劳已返回本国,由于缺乏外劳,中小企业一直在努力履行订单。
"Most locals are not keen to take up the 3D (Dirty, Dangerous, Difficult) jobs, hence, we are hoping for the foreign workers to come back soon as possible," he said.
"大多数当地人并不热衷于从事 3D(肮脏、危险、困难)的工作,因此,我们希望外国工人尽快回来,"他说。
Meanwhile, Yeah proposed that the government facilitate the intake of foreign workers promptly.
同时,Yeah先生提出政府要尽快便利外劳的录用。
"Economic recovery will be stronger because of the support from the increasing production and productivity of SMEs that are affected by the labour shortage," Yeah noted.
 "由于受劳动力短缺影响的中小企业的产量和生产力不断提高,经济复苏将更加强劲,"Yeah先生指出。
Margins will still be challenging for the rest of 2022
在 2022 年剩余时间里,利润率仍将充满挑战
Kenanga Research has reiterated its neutral stance on the consumer sector as margins will still be challenging going into 2022.
Kenanga Research 重申其对消费领域的中立立场,因为到 2022 年利润率仍将面临挑战。
It said the top-lines are expected to be robust if not better as the nation moves into the endemic stage starting 1st April, with operating hours back to the pre-pandemic stage for certain business activities, benefitting retailers especially.
它表示,随着国家从 4 月 1 日开始进入流行阶段,预计收入将保持强劲,如果不是更好的话,某些商业活动的营业时间将回到大流行前的阶段,尤其有利于零售商。
"The endemic phase will see travel restrictions phased out (including those from overseas) boosting further the hotel, restaurant and cafe channels.
"流行阶段将逐步取消旅行限制(包括来自海外的限制),进一步推动酒店、餐厅和咖啡馆渠道。
"Demand ahead looks likely to be supported by incoming festivities boosting sales with food and beverage producers up towards full utilisation," it said in a note.
它在一份报告中说:"即将到来的庆祝活动可能会支持未来的需求,这将推动食品和饮料生产商的销售达到充分利用。"
However, bottom lines are still challenging given the global supply chain issues, leading to volatile input prices and freight charges, Kenanga Research said.
然而,Kenanga Research 表示,鉴于全球供应链问题,导致投入价格和运费波动,底线仍然具有挑战性。
Separately, Bank Negara Malaysia, in March, projected Malaysia's gross domestic product to expand between 5.3% and 6.3% in 2022, up from 3.1% in 2021.
另外,马来西亚国家银行在 3 月份预计,马来西亚的国内生产总值将在 2022 年增长 5.3%至6.3%,高于 2021 年的 3.1%。
It said this would be underpinned by the continued expansion in external demand, full upliftment of containment measures, re-opening of international borders, and a further improvement in labour market conditions.
它表示,这将得到外部需求持续扩张、全面提升遏制措施、重新开放国际边界以及劳动力市场状况进一步改善的支撑。
On headline inflation, the central bank expects it to average between 2.2% and 3.2% in 2022 amid higher underlying inflation, while core inflation is expected to average higher between 2.0% and 3.0% in 2022 due to stronger demand conditions amid lingering cost pressures.
在总体通胀方面,由于潜在通胀上升,央行预计 2022 年的平均通胀率将在 2.2% 至 3.2% 之间,而由于成本压力挥之不去的需求状况强劲,预计 2022 年核心通胀率将平均在 2.0% 至 3.0% 之间.