Malaysia's outlook still susceptible to global slowdown after stellar performance in 2022, says HSBC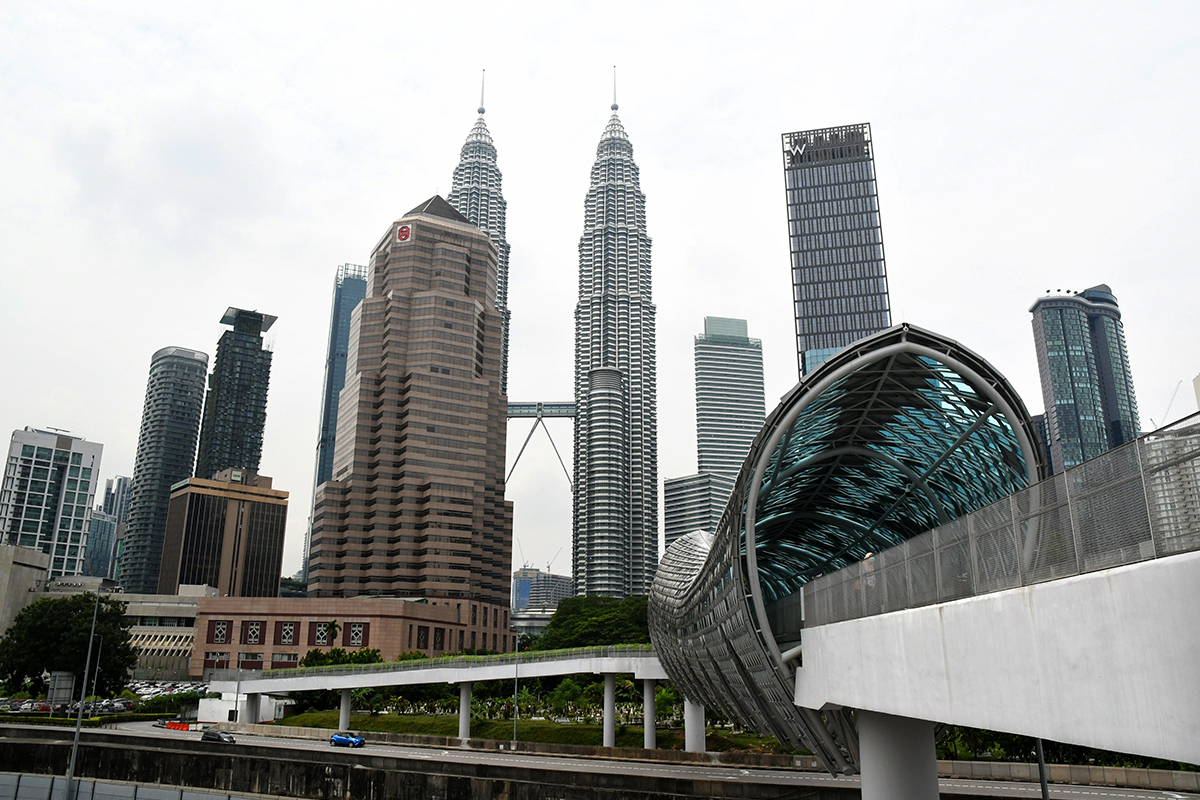 Malaysia's economic outlook may not be all that rosy going into 2023 although growth in the country is widely expected to be the best among regional peers in 2022, said HSBC Global Research.
汇丰银行全球研究部表示,尽管人们普遍预计该国的增长将在 2022 年成为区域同行中最好的,但到 2023 年马来西亚的经济前景可能不会那么乐观。
Malaysia is not insulated from the global trade slowdown, while benefits from post-pandemic reopening last year is fading, the research firm's economist Yun Liu said in a report.
该研究公司的经济学家Liu Yun在一份报告中表示,马来西亚并非不受全球贸易放缓的影响,而去年大流行后重新开放的好处正在消退。
Nonetheless, she said China's long-anticipated re-opening will provide a much-needed boost to sustain Malaysia's recovery.
尽管如此,她表示,中国期待已久的重新开放将为维持马来西亚的复苏提供急需的推动力。
"The most direct transmission is via tourism. While Malaysia is not as heavily dependent on tourism as peers like Thailand, its tourist receipts were still sizeable, accounting for 6.3% of GDP in 2019, with broader tourism-related jobs accounting for as much as 30%," Liu said.
"最直接的传播是通过旅游业。虽然马来西亚不像泰国那样严重依赖旅游业,但其旅游收入仍然相当可观,占 2019 年国内生产总值的 6.3%,更广泛的旅游相关工作占 30%,"Liu说。
There is also optimism on the trade front, with Malaysia, along with Indonesia, seeing resilient exports to China in 2022, despite slower growth in the world's second largest economy, said the economist.
经济学家表示,尽管世界第二大经济体的增长放缓,但马来西亚和印度尼西亚在 2022 年对中国的出口仍保持乐观。
"Much of the benefit is from high commodity prices, which are likely to stay elevated due to supply constraints coupled with China's expected decent economic rebound. That said, the boost will likely be limited, as China itself is also susceptible to a cooling global trade cycle," she said.
"大部分收益来自高商品价格,由于供应限制以及中国预期的良好经济反弹,商品价格可能会保持高位。也就是说,提振可能会有限,因为中国本身也容易受到全球贸易周期降温的影响,"她说。
However, Liu said foreign direct investment (FDI) from China is likely to remain robust and provide positive long-term trade prospects.
不过,Liu表示,来自中国的外国直接投资 (FDI) 可能会保持强劲势头,并提供积极的长期贸易前景。
"Over the past decade, China has been investing heavily in Asean's manufacturing, a sector to which Malaysia is heavily exposed. After China's re-opening, we expect to see more China FDI into Malaysia, which has already entered both traditional and the renewable energy sectors," she said.
"在过去的十年里,中国一直在大力投资东盟的制造业,而马来西亚在这一领域有很大的风险敞口。在中国重新开放后,我们预计会有更多的中国 FDI 进入马来西亚,而马来西亚已经进入了传统和可再生能源领域,"她说。
On the political front, Liu said uncertainty has abated since the general election in November last year, which resulted in Prime Minister Datuk Seri Anwar Ibrahim forming a unity government and surviving a confidence vote in Parliament in December.
在政治方面,Liu说,自去年 11 月大选以来,不确定性有所减弱,导致首相拿督斯里安华依布拉欣组建了一个团结政府,并在 12 月的议会信任投票中幸存下来。
She also noted that leadership in Umno, one of the coalition parties in government, has steadied.
她还指出,政府联盟党之一巫统的领导层已经稳定。
"The Umno leadership was crucial to watch, as it would affect the workings of Anwar's unity government.
"巫统领导层至关重要,因为它会影响安华联合政府的运作。
"Still, a close watch on how the coalition evolves is warranted. The next test will be six state assembly elections in the second half of 2023. However, the focus in the coming month will centre on Malaysia's 2023 budget, the first that Anwar's administration will table, and scheduled for Feb 24," she added.
"不过,密切关注联盟如何演变是有必要的。下一个考验将是 2023 年下半年的六次州议会选举。然而,下个月的重点将集中在马来西亚的 2023 年预算上,这是安华政府将提交的第一份预算案,定于 2 月 24 日提交,"她补充说。
In terms of monetary policy, Liu does not think that Bank Negara Malaysia (BNM) has completed its rate hike cycle although the central bank opted to pause raising its overnight policy rate (OPR) on 19th January.
在货币政策方面,Liu认为马来西亚中央银行(BNM)没有完成加息周期,尽管中央银行在1 月 19 日选择暂停提高隔夜政策利率(OPR)。
"One reason behind BNM's move is likely related to easing foreign exchange pressures and an expected slower US Federal Reserve's tightening pace. BNM removed the reference to a strong US dollar environment in 19th January's meeting, and after all, ringgit appreciated by around 8.5% compared to last November meeting.
"国行此举背后的一个原因可能与缓解外汇压力和美联储收紧步伐预期放缓有关。国行在 1月19日的会议上删除了强势美元环境的提法,毕竟与去年 11 月的会议相比,令吉升值了约 8.5%。
"However, we continue to believe this is not the end of BNM's current tightening cycle. Despite the decision to hold, 19th January's statement does not sound dovish, and BNM's qualitative assessment on growth and inflation remains broadly unchanged from its last meeting," she said.
"然而,我们仍然相信这不是国行当前紧缩周期的结束。尽管决定按兵不动,1月19日的声明听起来并不鸽派,国行对增长和通胀的定性评估与上次会议基本保持不变,"她说。
Liu expects BNM to raise the OPR by another 25 basis points come March, bringing its policy rate to 3.00%, before holding steady throughout 2024.
Liu 预计国行将在 3 月份将 OPR 再提高 25 个基点,使其政策利率达到 3.00%,然后在整个 2024 年保持稳定。