Malaysia reviewing use of AstraZeneca vaccine after EMA findings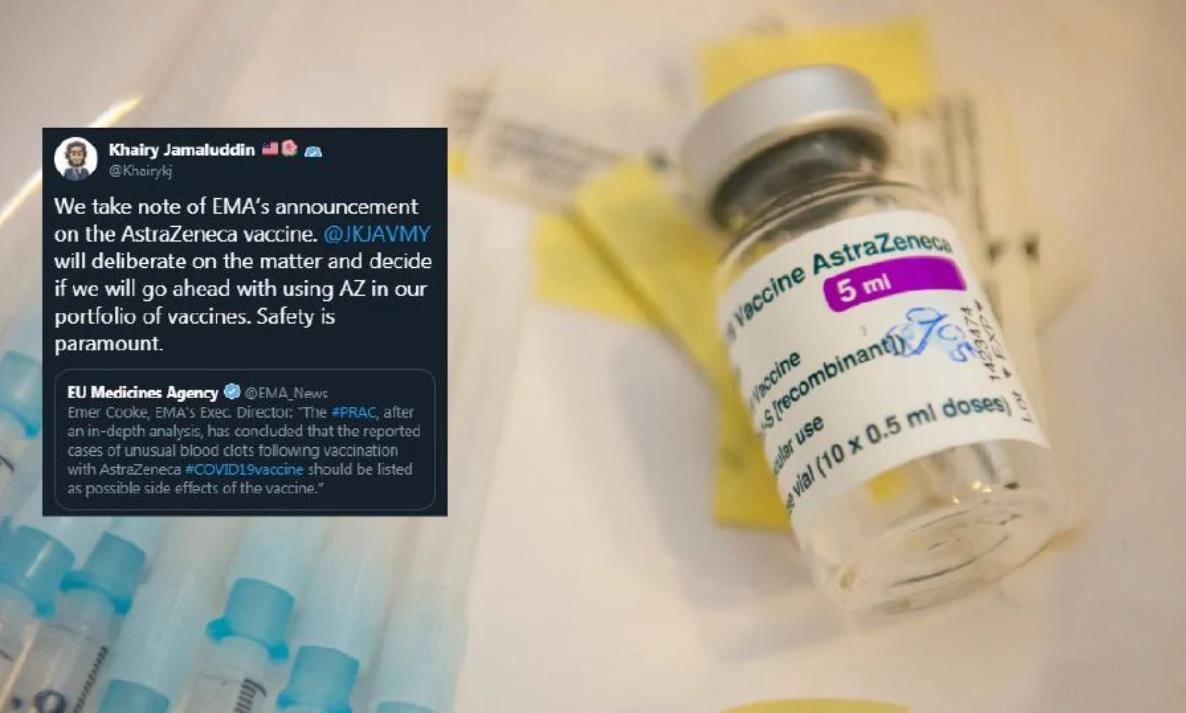 By Veena Babulal - April 8, 2021 @ 10:56am
KUALA LUMPUR: Malaysia will review the use of the AstraZeneca Covid-19 vaccine following the European Medicines Agency's (EMA) findings that it caused side effects which included "unusual blood clots".
Science, Technology and Innovation Minister Khairy Jamaluddin said that the government took note of the agency's announcement.
"@JKJAVMY (the Covid-19 Vaccine Supply Access Guarantee Special Committee) will deliberate the matter and decide if we should go ahead using AZ in our portfolio of vaccines.
"Safety is paramount," he posted on Twitter.
YOU MAY ALSO LIKE
On Tuesday Marco Cavaleri, the EMA's head of vaccines, told Italy's Il Messaggero newspaper that in his opinion, "We can say it now, it is clear there is a link with the vaccine… But we still do not know what causes this reaction."
The announcement comes on the heels of rare but serious blood clotting events in a small number of recipients in recent weeks, with more than a dozen European countries briefly suspending its use last month pending an EMA investigation.
The EMA is also looking into 14 deaths among recipients of the jab that had been reported by March 22 and are related to unusual blood clots in the brain, known as cerebral venous sinus thrombosis (CVST), accompanied by a low platelet count.
A high proportion among the reported cases affected were young and middle-aged women.
The regulator however consistently said the benefits outweighed the risks as it investigates 44 reports of an extremely rare brain clotting ailment known as cerebral venous sinus thrombosis (CVST) out of 9.2 million people in the European Economic Area who have received the AstraZeneca vaccine.
On Sunday, Khairy said the government has prepared several back up plans in the event the vaccine was found to be unsuitable for the country's use.
However yesterday his co-chair to the committee said the country would proceed to use AstraZeneca because clinical data has shown the benefits of the vaccines outweigh the risks.
Malaysia is scheduled to receive deliveries of about 6.4 million doses of the AstraZeneca vaccine in May, for the use of 3.2 million people.
Khairy also said he had received AstraZeneca's delivery schedule from the company's contract manufacturing plant in Thailand last week which confirmed delivery of the country's booking of vaccines would start in June.
He also said the government's direct orders for 600,000 doses of the vaccine would be delivered then and subsequent deliveries would arrive monthly.