JPMorgan turns positive on Indonesian and Malaysian bonds after global selloff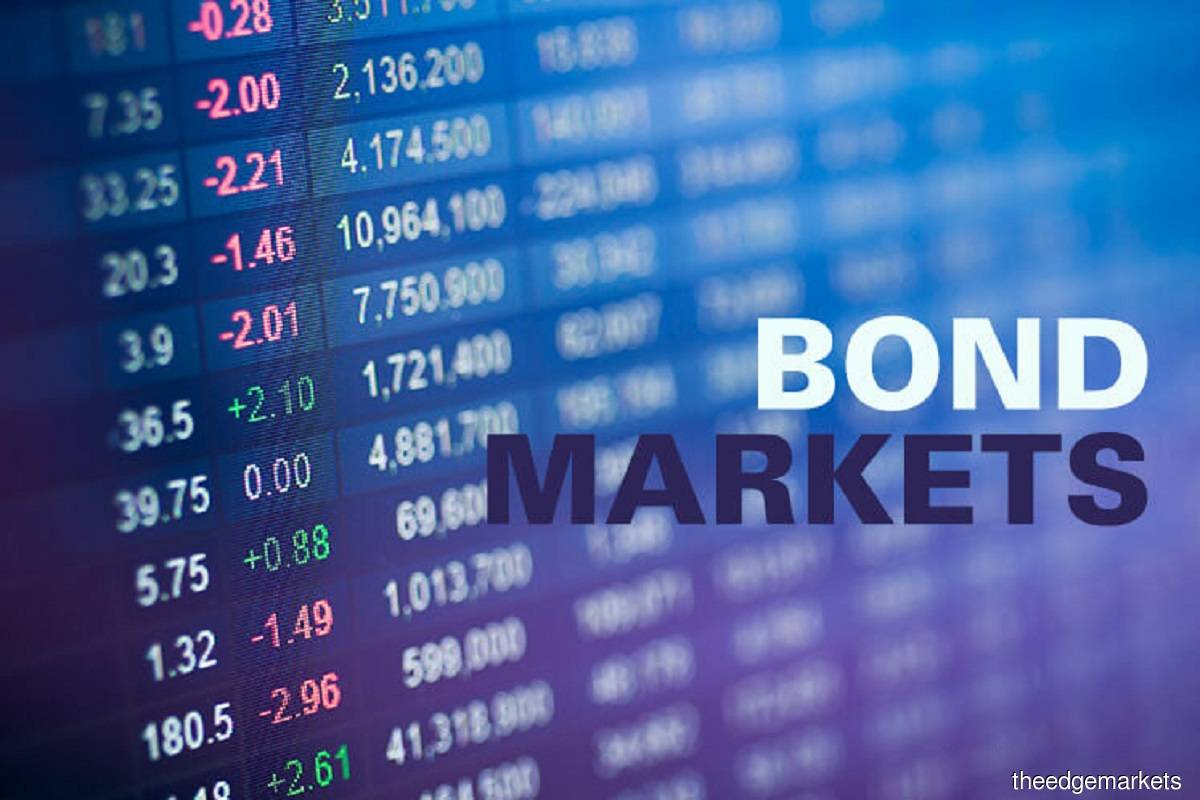 Indonesian and Malaysian bonds are attractive as markets refocus on economic fundamentals following the selloff in emerging-market debt and Treasuries, according to JPMorgan Asset Management.
根据摩根大通资产管理公司的数据,随着市场在新兴市场债务和国债抛售后重新关注经济基本面,印尼和马来西亚债券具有吸引力。
Bonds from the two Asian nations will benefit from their commodity exports, strong external balance sheets and inflation that is relatively contained, said Julio Callegari, lead portfolio manager for Asia local rates and foreign exchange at the money manager.
这两个亚洲国家的债券将受益于它们的大宗商品出口、强劲的外部资产负债表和相对可控的通胀,该基金亚洲本地利率和外汇的首席投资组合经理 Julio Callegari 表示。
"Any selloff from here is actually a good opportunity to buy duration in Indonesia," Hong Kong-based Callegari said. "This is true too to some extent in Malaysia."
"从这里开始的任何抛售实际上都是在印度尼西亚买入久期的好机会,"总部位于香港的 Callegari 表示。"在某种程度上,这在马来西亚也是如此。"
JPMorgan Asset shifted to a slightly overweight position on Indonesian debt this month on the view that local yields are unlikely to go much higher even if those on Treasuries keep climbing, he said.
他表示,摩根大通资产本月将印尼债券的头寸转向略微增持,因为认为即使美国国债收益率继续攀升,当地收益率也不太可能走高。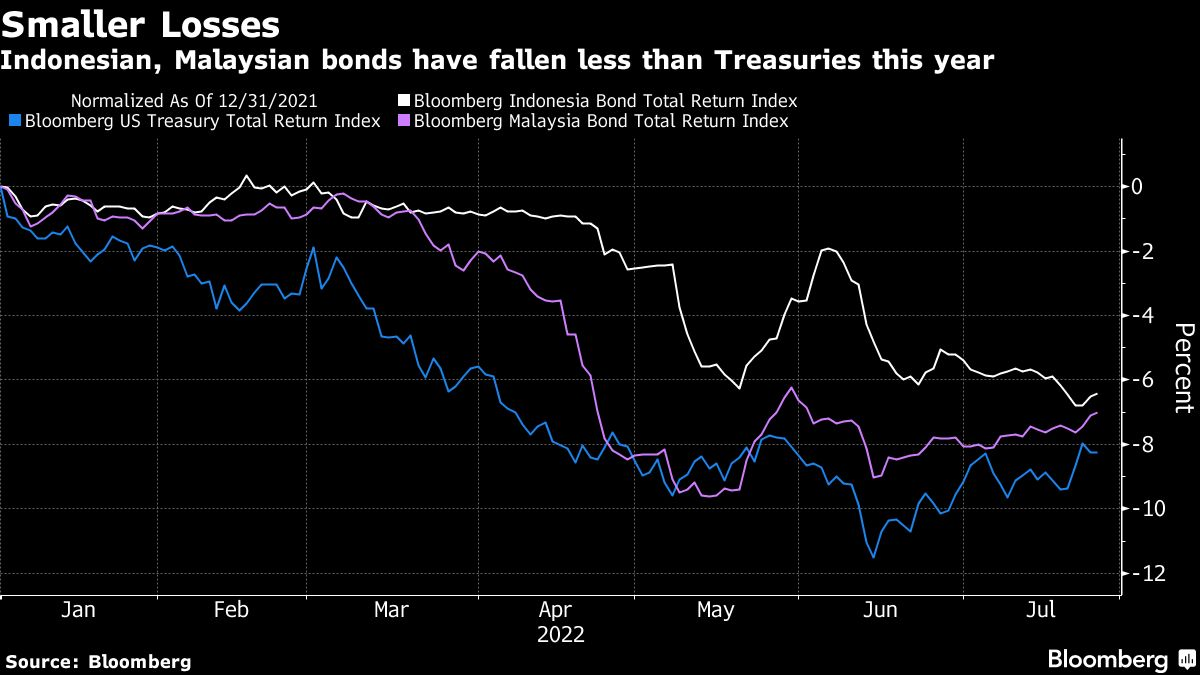 Indonesia's government bonds have handed investors a loss of 6.4% this year, while Malaysia's have declined 7%, according to data compiled by Bloomberg. That's still better than the performance of US Treasuries, which have fallen 8.2%.
根据彭博汇编的数据,今年印尼政府债券给投资者带来了 6.4% 的损失,而马来西亚政府债券则下跌了 7% 。这仍然好于美国国债的表现,后者下跌了 8.2%。
At least part of the losses in Indonesian and Malaysian debt markets have been driven by foreign outflows. Global funds offloaded a net US$7.75 billion of Indonesian debt this year through July 22, while they cut holdings in Malaysia by US$570 million in the second quarter, according to data compiled by Bloomberg.
至少印尼和马来西亚债务市场的部分损失是由外国资金流出造成的。根据彭博汇编的数据,今年截至 7 月 22 日,全球基金净减持了 77.5 亿美元的印尼债务,同时在第二季度减持了 5.7 亿美元在马来西亚的债务。
Tame inflation 抑制通货膨胀
Indonesia's annual inflation rate accelerated to a five-year high 4.35% last month, compared with just 1.87% in December. At the same time, the core gauge was just 2.87%, holding below the midpoint of the central bank's 2%-to-4% target range for headline inflation. In contrast, the US consumer-price index surged to 9.1% in June.
印度尼西亚的年通货膨胀率上个月加速至 4.35% 的五年高位,而 12 月份仅为 1.87%。与此同时,核心指标仅为 2.87%,低于央行 2% 至 4% 的总体通胀目标区间的中点。相比之下,美国 6 月份消费者物价指数飙升至 9.1%。
Indonesia's "relatively tamed inflation" at just above the central bank's target appears anchored compared with the US and Europe, which are batting the fastest rise in consumer costs in decades, Callegari said. The current-account surplus due to higher commodity prices are also offering some resilience to the nation's currency, he said.
Callegari 表示,与美国和欧洲相比,印尼"相对温和的通胀"略高于央行目标,这似乎是稳定的,这两个国家正在应对几十年来最快的消费成本增长。他说,由于大宗商品价格上涨导致的经常账户盈余也为该国货币提供了一定的弹性。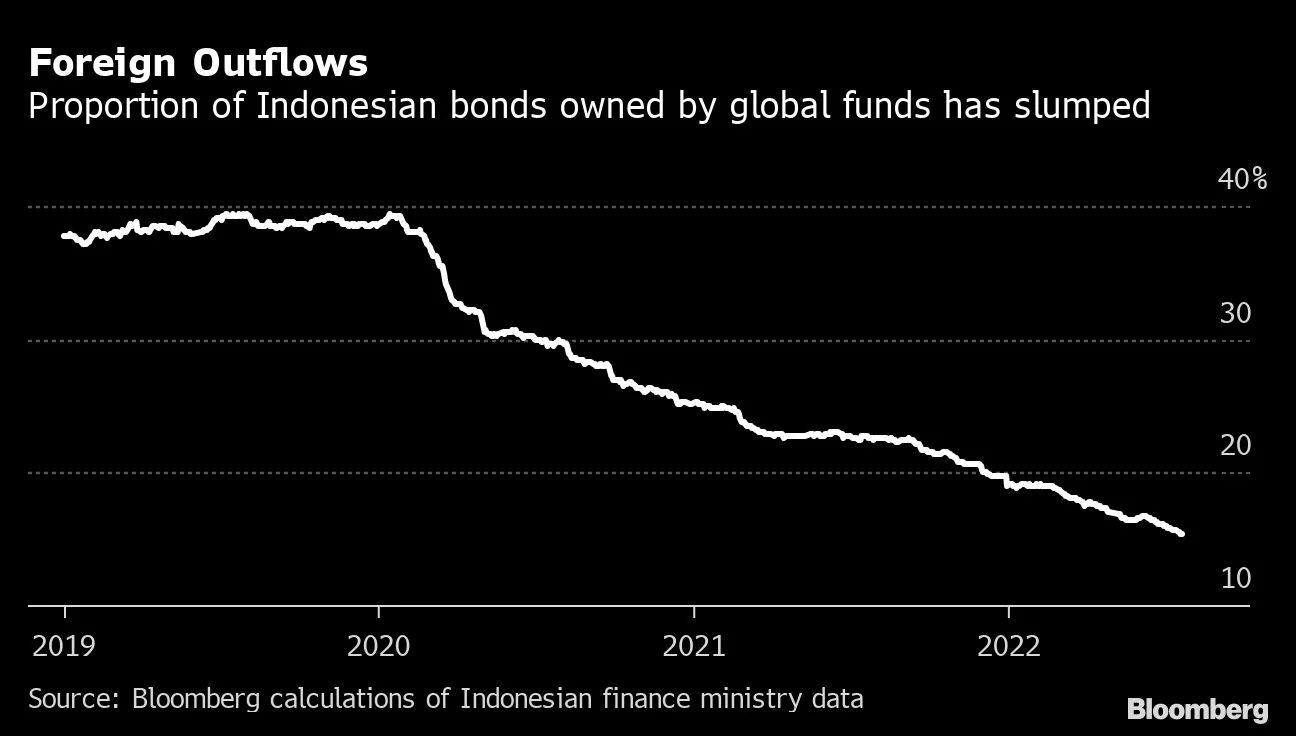 Indonesia's bonds are also becoming less vulnerable to outflows as the proportion held by overseas investors has been declining, Callegari said.
Callegari 表示,随着海外投资者持有的比例一直在下降,印度尼西亚的债券也变得不太容易受到外流的影响。
Global funds owned 15% of Indonesia's sovereign debt as of 22nd July, down from as high as 39% at the start of 2020, according to data compiled by Bloomberg using figures from Indonesia's finance ministry.
根据彭博社使用印尼财政部数据汇编的数据,截至 7 月 22 日,全球基金持有印尼主权债务的 15%,低于 2020 年初的 39% 。
With Bank Indonesia likely to make its first rate hike by September and a possibly stronger inversion of the US yield curve "our bias is to reengage", Callegari said. "Indonesia and Malaysia is where we actually are looking to be overweight."
Callegari 表示,由于印尼央行可能在 9 月前首次加息,并且美国收益率曲线可能出现更强劲的倒挂,"我们的倾向是重新参与"。"印度尼西亚和马来西亚是我们实际上希望超重的地方。"