Gig economy workers benefit from new initiatives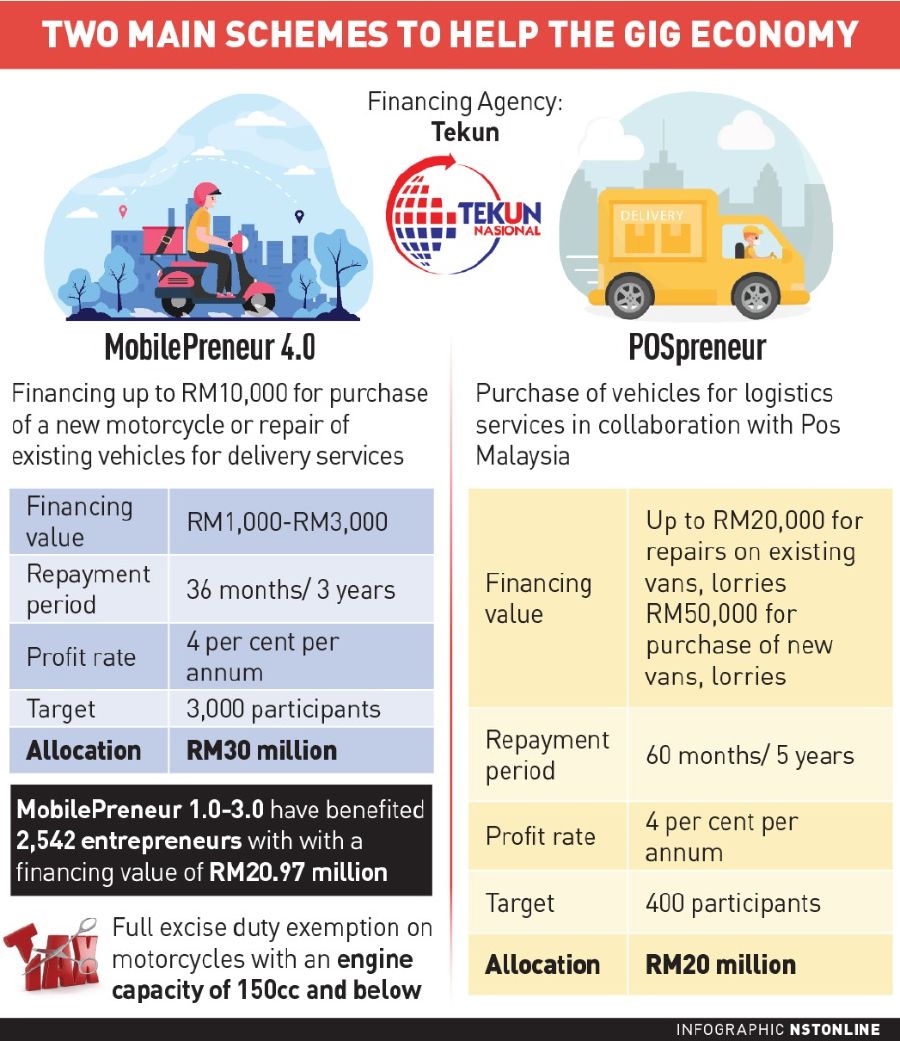 By Dhesegaan Bala Krishnan - April 7, 2021 @ 9:34am
KUALA LUMPUR: Food and parcel delivery service (p-hailing) workers are delighted after being recognised as key drivers of the country's gig economy through the National Entrepreneur Group Economic Fund's (Tekun) MobilePreneur and POSprenuer incentives.
Captain Khairul Anwar Ajid, 41, who started learning the ropes of p-hailing in July last year, first heard about the MobilePreneur initiative from his mother.
"I did not own a small bike which was conducive for p-hailing. So, I sought the incentive during the second round (MobilePreneur 2.0) and received a RM10,000 loan.
"I was given two options, either to repair and upgrade my existing bike or to purchase a new one. I opted to get a new one.
YOU MAY ALSO LIKE
"For p-hailing riders, safety is the most important thing. We need to deliver the items on time and as we are chasing orders, we need to ensure that our vehicles are in good shape at all times," he told the New Straits Times.
Khairul, therefore, was encouraging other p-hailing riders to take advantage of the MobilePreneur loan as well as to prioritise safety while on the road.
Another p-hailing rider, Mohd Mizan Abdul Hamid, 32, who had worked in the industry for more than four years, received his RM10,000 loan during MobilePreneur 2.0 in December to purchase a new bike.
"I applied for the loan after some friends on social media told me about the assistance provided by the Perikatan Nasional government and after Prime Minister Tan Sri Muhyiddin Yassin announced the initiative.
"The process took me around 10 weeks and was well within the timeframe set. The officers also visited my home to inspect and verify the condition of my motorcycle," he said.
Mizan said the loan repayment duration of three years was very reasonable for gig workers, who often faced difficulty in purchasing vehicles.
"Since the gig sector is still considered an informal sector, we are required to pay high deposit amounts to the bank or motor shops if we want to purchase a vehicle.
"This loan is therefore a timely helping hand for us.
"Some of us are working for almost 12 hours a day on the motorcycle. So, we cannot compromise on safety," he said, when asked about his decision to purchase a new bike.
Under the Strategic Programme to Empower the People and Economy (Pemerkasa), Muhyiddin announced that the Tekun Mobilepreneur programme would be expanded to finance repair or purchase of new motorcycles with a maximum loan limit of RM10,000. An allocation of RM30 million had been set aside for this purpose.
The government previously introduced Tekun MobilePreneur 1.0 last April with a maximum loan limit of RM1,000, which was subsequently raised to RM10,000 under Tekun Mobilepreneur 2.0.
This time around, Tekun has also introduced the POSpreneur initiative, in collaboration with Pos Malaysia, to provide loans for purchasing new vans and lorries (with a maximum limit of RM50,000) and for repairing vans (with a maximum limit of RM20,000).
The government has allocated RM20 million for this purpose and the loan repayment duration for Tekun POSpreneur is five years.