Durian prices expected to double this year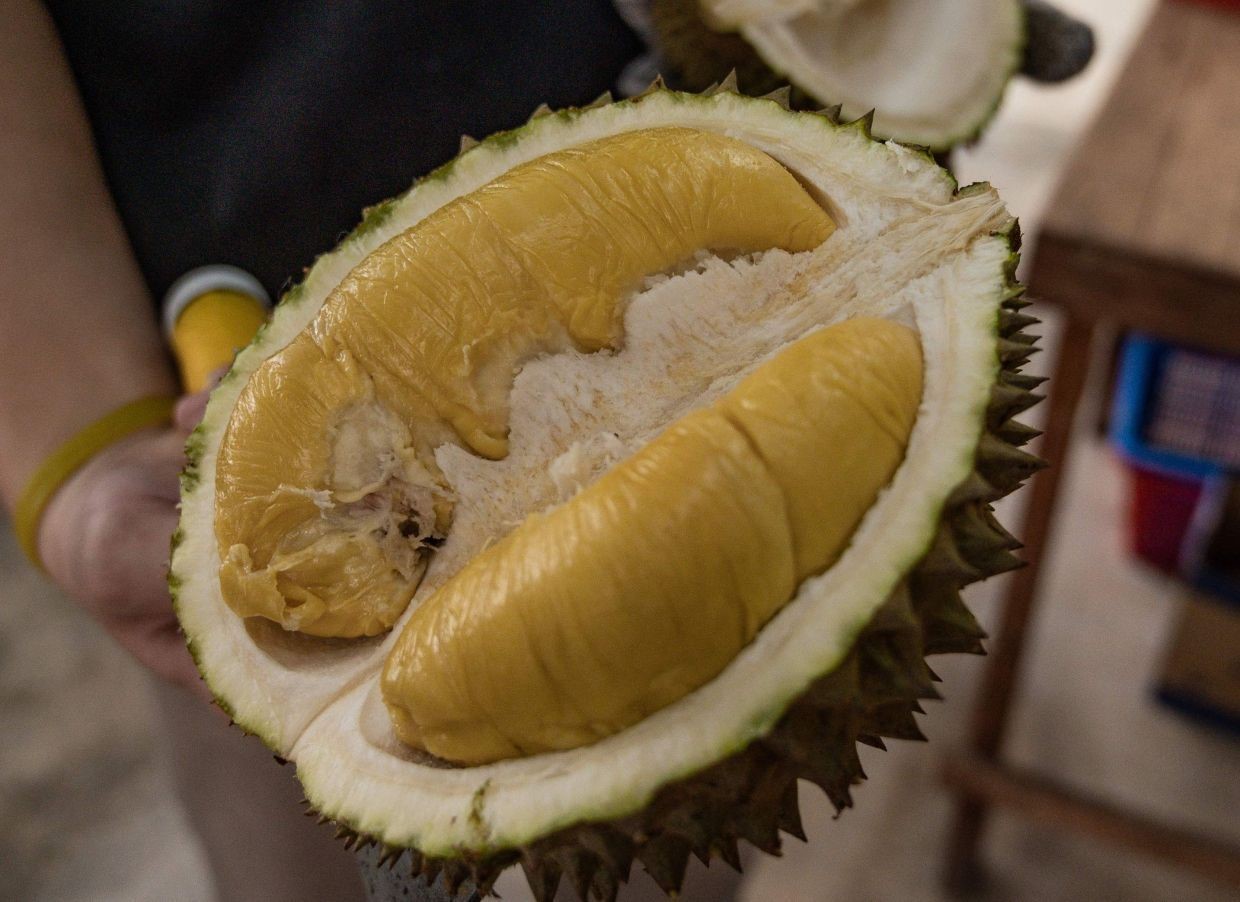 Durian fans, especially those who love premium varieties like Musang King and Black Thorn, will have to deal with an expected 100% price increase during this year's durian season.
榴莲爱好者,尤其是喜欢猫山王和黑刺等优质品种的榴莲爱好者,将不得不应对今年榴莲季节预期的 100% 价格上涨。
Deputy Agriculture and Food Industry Minister I Datuk Seri Ahmad Hamzah said the price hike was due to a 50% drop in durian production due to weather conditions.
农业和食品工业部副部长Datuk Seri Ahmad Hamzah表示,价格上涨是由于天气条件导致榴莲产量下降了 50%。
"We believe that the rainy season at the end of March to April has impacted the pollination of durian, which impacts the number of fruits.
"我们认为,3月底至4月的雨季影响了榴莲的授粉,从而影响了果实的数量。
"We expect this factor will result in a drop of 50% in total production in some states," he told reporters at the Aidilfitri open house at Pengkalan Umbai here.
"我们预计这一因素将导致某些州的总产量下降 50%,"他在 彭加兰旺梨的开斋节开放日对记者说。
Besides weather, increased fertiliser and labour costs have also affected the production of the King of Fruits.
除了天气,肥料和劳动力成本的增加也影响了水果之王的生产。
"So far, Penang and Perak have acknowledged the estimated 50% drop in production and even a durian planters association has issued a report that not only prices for Black Thorn and Musang King durians will rise, but also kampung durians as well," he added.
"到目前为止,槟城和霹雳州已经承认估计产量下降了50%,甚至榴莲种植者协会也发布了一份报告,不仅黑刺和猫山王榴莲的价格将会上涨,而且甘榜榴莲的价格也会上涨,"他补充说。
Prices for the Black Thorn variety are expected to exceed RM100 per kg, while Musang King will be priced around RM60 to RM80 per kg, depending on the grade, compared to RM30 to RM40 per kg previously.
黑刺品种的价格预计将超过每公斤 100 令吉,而猫山王的价格将在每公斤 60 至 80 令吉,具体取决于等级,而之前的价格为每公斤 30 至 40 令吉。
Ahmad explained that the ministry did not cap the price of durians as this depended on production and supply.
艾哈迈德解释说,该部没有限制榴莲的价格,因为这取决于生产和供应。
He noted that the ministry had also obtained feedback from the Federal Agricultural Marketing Agency (Fama) in Penang and Perak about the estimated price hike in those states.
他指出,该部还从槟城和霹雳州的联邦农业营销局获得了有关这些州估计价格上涨的反馈。