DOSM: MALAYSIA'S NATURAL RUBBER PRODUCTION DOWN BY 4.5% IN JULY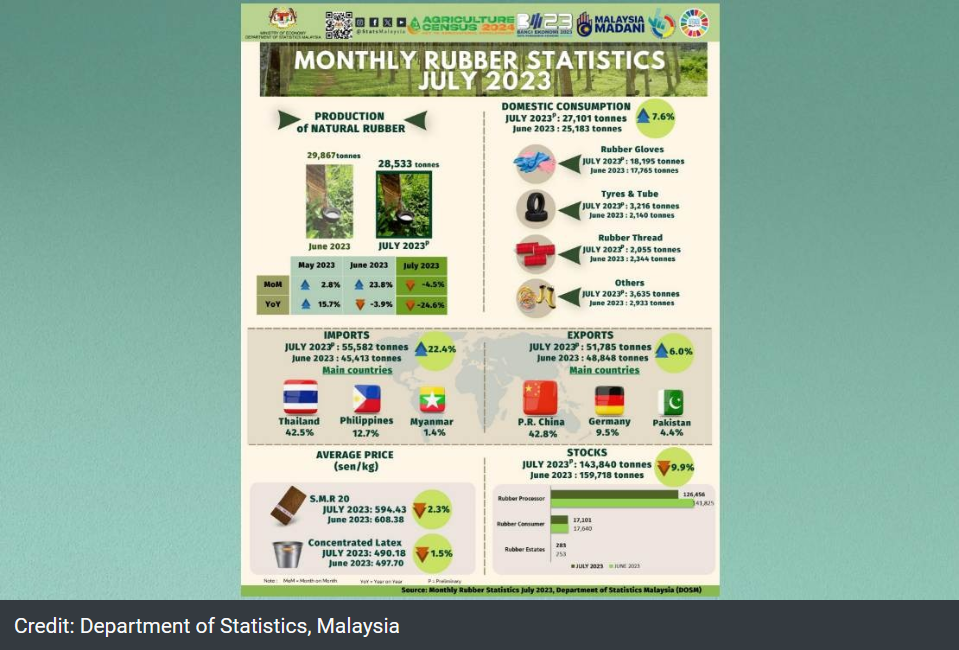 Malaysia's natural rubber (NR) production decreased by 4.5% to 28,533 tonnes in July 2023 from 29,867 tonnes in June 2023, said the Department of Statistics Malaysia (DoSM).
NR production was also down by 24.6% year-on-year from 37,843 tonnes in July 2022, said chief statistician Datuk Sri Dr Mohd Uzir Mahidin.
He said NR's total stocks in July 2023 reduced by 9.9% to 143,840 tonnes compared to 159,718 tonnes in June 2023.
"Rubber processors factory contributed 87.9% of the stocks followed by rubber consumers factory (11.9%) and rubber estates (0.2%)," Mohd Uzir said in a statement.
Meanwhile, NR exports amounted to 51,785 tonnes in July 2023, an increase of 6.0%, as against 48,848 tonnes in June 2023, contributed by NR-based products such as gloves, tyres, tubes, rubber threads and condoms.
China remained the main destination for NR exports which accounted for 42.8% of total exports in July 2023, followed by Germany (9.5%), Pakistan (4.4%), the United States (3.3%) and Brazil (2.2%).
The department also said that an analysis of the average monthly price showed that concentrated latex recorded a 1.5% month-on-month decline to 490.18 sen per kilogramme (kg) in July from 497.70 sen per kg in June.
Meanwhile, scrap rubber eased by 2.2% to 471.14 sen per kg from 481.91 sen per kg.
"Prices for all Standard Malaysian Rubber (SMR) shrank between 1.5% and 2.3%," DoSM said.
According to the July 2023 issue of the Malaysia Rubber Board Digest, the rubber market in Kuala Lumpur experienced a varied trend during the review period, in line with the rubber futures markets in the region.
This was due to concerns about the global economic slowdown, despite the positive announcement from the World Bank.
The markets also reacted negatively to the steep strengthening of the ringgit coupled with an increase in local natural rubber production.