Banks, financial institutions urged to guide MSMEs to embrace ESG principles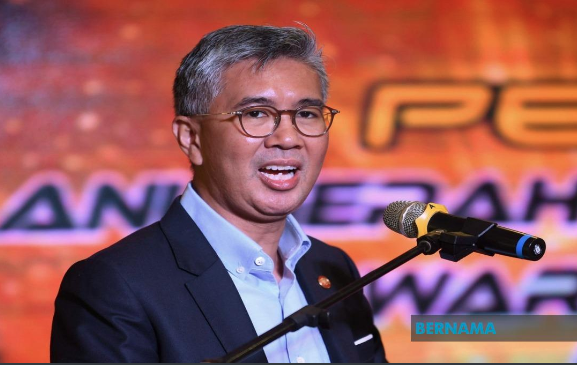 Finance Minister Tengku Datuk Seri Zafrul Abdul Aziz urged Credit Guarantee Corporation Malaysia Bhd (CGC), banks and financial institutions (FI) to look for ways to strengthen the micro, small and medium enterprises (MSMEs), especially in embracing the environmental, social and corporate governance (ESG) principles.
财政部长Tengku Datuk Seri Zafrul Abdul Aziz敦促马来西亚信用担保公司(CGC)、银行和金融机构(FI)寻找加强微型、中小型企业(MSME)的方法,特别是在拥抱环境、社会和公司治理 (ESG) 原则。
He said the ESG assets are estimated to hit US$53 trillion (US$1=RM4.44) by 2025, a third of global assets under management, while ESG funds now account for roughly 10% of worldwide fund assets.
他表示,到 2025 年,ESG 资产估计将达到 53 万亿美元(1 美元=4.44 令吉),占全球管理资产的三分之一,而 ESG 基金目前约占全球基金资产的 10%。
"As such, it is critical to ensure that MSMEs are not shut out of markets, or deprived of future financing due to non-compliance with ESG principles in their operations," he said in his speech at CGC's 27th FI/Development FI and SME Awards 2021 here, on 29th July.
"因此,确保中小微企业不会因为在运营中不遵守 ESG 原则而被市场拒之门外或被剥夺未来融资至关重要,"他在 CGC 第 27 届 FI/Development FI 和 SME 的演讲中说在7月29日这里举行 2021 年颁奖典礼。
He said a strong MSME sector would reflect on a stronger economy and its resiliency.
他说,强大的中小微企业部门将反映更强劲的经济及其弹性。
A concerted effort must be made to improve MSMEs' knowledge, digital capabilities and collaborations with the innovator community -- multinational corporations and academia -- to help them build better offerings, he said.
他说,必须齐心协力提高中小微企业的知识、数字能力以及与创新社区——跨国公司和学术界——的合作,以帮助他们建立更好的产品。
It is also critical for the banks and FIs to play an active role in facilitating the transition of MSMEs to low-carbon and sustainable practices.
银行和金融机构在促进 MSME 向低碳和可持续实践转型方面发挥积极作用也至关重要。
"Your zero-carbon targets may be aggressive, in which case, it is more important for you to guide and perhaps handhold the MSMEs in achieving their ESG targets," he said.
"你的零碳目标可能是激进的,在这种情况下,你更重要的是指导和支持中小微企业实现其 ESG目标,"他说。
The Minister said the government-linked companies and government-linked investment companies have also embraced the sustainability principle, which is extremely important as the objective is to have such principles cascade down to the MSMEs.
部长表示,官联公司和官联投资公司也接受了可持续发展原则,这非常重要,因为目标是将这些原则推广到中小微企业。
He added that Budget 2023 would also prioritise the initiatives to make MSMEs more competitive and resilient as well as other similar efforts to rebuild the sector's capabilities and boost their competitiveness.
他补充说,2023 年预算还将优先考虑使中小微企业更具竞争力和弹性的举措,以及重建该行业能力和提高竞争力的其他类似努力。
MSMEs contributed 37.4% of Malaysia's gross domestic product and employed 47.8% of the workforce in 2021.
到 2021 年,中小微企业贡献了马来西亚国内生产总值的 37.4%,雇用了 47.8% 的劳动力。
"Given the MSMEs' significant contribution to the country's economy and job opportunities, clearly this is a sector that we must actively promote," he said.
"鉴于中小微企业对国家经济和就业机会的重大贡献,显然这是一个我们必须积极推动的行业,"他说。
Also present at the awards ceremony were CGC chairman Datuk Mohammed Hussein and president/chief executive officer Datuk Mohd Zamree Mohd Ishak.
出席颁奖典礼的还有 CGC 主席Datuk Mohammed Hussein和总裁/首席执行官Datuk Mohd Zamree Mohd Ishak。