Asean manufacturing sector witnesses improvement in January, except Malaysia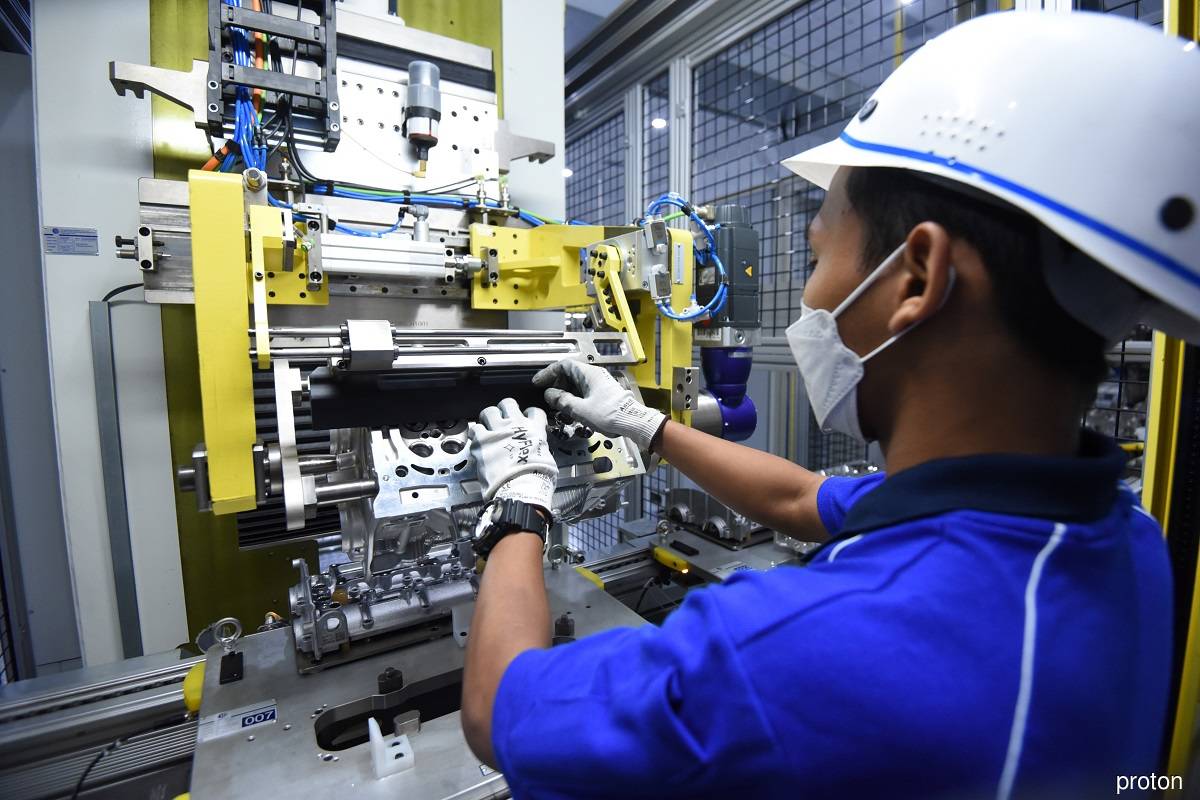 The Asean manufacturing sector witnessed an improvement in January after two months of contraction, largely driven by a modest rise in production levels and new orders, leading to the 16th consecutive month of improvement in overall manufacturing conditions. 
在经历了两个月的收缩后,东盟制造业在 1 月份有所改善,这主要是受生产水平和新订单温和上升的推动,导致整体制造业状况连续第 16 个月改善。  
However, Malaysia was the only country with a notable deterioration in its manufacturing conditions, as the pace of contraction accelerated for the fourth month running, according to S&P Global's latest purchasing managers index (PMI) survey.
然而,根据标准普尔全球最新的采购经理人指数(PMI)调查,马来西亚是唯一一个制造业状况明显恶化的国家,收缩步伐连续第四个月加快。 
S&P said Malaysia's latest PMI reading of 46.5, a dip from 47.8 in December 2022, was the lowest recorded in 17 months.
标准普尔表示,马来西亚最新的 PMI 读数为 46.5,低于 2022 年 12 月的 47.8,是 17 个月以来的最低记录。
These findings suggest a mixed picture of the sector, where most firms raised their purchases of inputs to meet growing demand and at the quickest rate for three months. 
这些调查结果表明该行业的情况喜忧参半,大多数公司都以三个月来最快的速度增加了投入品的采购以满足不断增长的需求。  
"The headline PMI picked up from 50.3 in December to a three-month high of 51. That said, the rate of expansion remained muted in comparison to last year's average," it said. 
"总体采购经理人指数从 12 月份的 50.3 回升至 51 的三个月高点。也就是说,与去年的平均水平相比,扩张速度仍然缓慢,"它表示。  
In a separate note, S&P Global said Malaysia's output levels were scaled back for the sixth successive month, and at the fastest pace since September 2021, while the rate of reduction in new order inflows was the most pronounced for 17 months.
标准普尔全球在另一份报告中表示,马来西亚的产出水平连续第六个月缩减,并且是自 2021 年 9 月以来最快的速度,而新订单流入的减少速度是 17 个月来最明显的。 
"Malaysian firms often commented that domestic and global economic weaknesses had weighed on production and demand," it said. 
"马来西亚公司经常评论说国内和全球经济疲软对生产和需求造成压力,"它说。  
S&P Global Market Intelligence economist Usamah Bhatti said the latest PMI data for Malaysia is still indicative of growth in official data heading into the new year, though at a softer rate.
S&P Global Market Intelligence 经济学家 Usamah Bhatti 表示,马来西亚最新的采购经理人指数数据仍表明官方数据在进入新的一年时有所增长,尽管增速有所放缓。 
"Two positives came from the latest survey result, the first being a renewed expansion in employment, helping firms to keep on top of workloads and setting a base to expand output in the future should demand start to regain momentum," she said.
"最新的调查结果有两个积极因素,第一个是就业重新扩大,帮助企业控制工作量,并为未来扩大产量奠定基础,如果需求开始恢复势头的话,"她说。 
"The second was the first reduction in delivery times for just over three years as material shortages, port congestion and delivery issues continued to normalise. Better availability of materials also contributed to the softest rise in input prices in the current sequence of inflation that began in June 2020."
"第二个是由于材料短缺、港口拥堵和交付问题继续正常化,交付时间在三年多的时间里首次缩短。在 2020 年 6 月开始的当前通货膨胀序列中,更好的材料供应也导致了投入品价格的最低涨幅。" 
S&P Global said employment levels in Malaysia's manufacturing sector rose for the first time in four months. The time taken to receive inputs also shortened for the first time since November 2019.
标准普尔全球表示,马来西亚制造业的就业水平四个月来首次上升。自 2019 年 11 月以来,接收输入所需的时间也首次缩短。 
"As a result, input prices rose at a modest pace that was the slowest in the current 32-month sequence of inflation," it said. 
"因此,投入价格以温和的速度上涨,这是当前 32 个月通胀序列中最慢的,"它说。  
Usamah said inflation in Asean remains elevated, and further rate hikes in the region could be expected. Thus, she said it is vital that demand conditions continue to recover and are able to support growth momentum into the rest of 2023.
Usamah 表示,东盟的通胀仍然高企,预计该地区将进一步加息。因此,她表示,需求状况继续复苏并能够支持 2023 年剩余时间的增长势头至关重要。 
For Malaysian manufacturers, S&P Global said they were increasingly optimistic regarding the year-ahead outlook for output amid hopes that both domestic and external demand conditions would improve as the global economy recovers. 
对于马来西亚制造商,标准普尔全球表示,他们对未来一年的产出前景越来越乐观,因为人们希望随着全球经济复苏,国内和外部需求状况都会改善。  
It said the overall level of confidence by Malaysian manufacturers rose to the strongest since August 2019.
它表示,马来西亚制造商的整体信心水平升至 2019 年 8 月以来的最高水平。