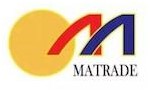 MALAYSIA WE GO THE EXTRA MILE
------------------------------------------------------------------------------------
As Malaysia's national trade promotion agency, Malaysia External Trade Development
Corporation(MATRADE) is responsible for assisting Malaysian companies venture into the international market. Today, as we continue to put the spotlight on capable Malaysian companies on the international stage, we are helping to make the phrase Made-in-Malaysia for the World synonymous with excellence, quality, reliability and trustworthiness.
Driven by the vision of positioning Malaysia as a globally competitive trading nation, MATRADE assists Malaysian companies establish their presence overseas through different promotional programmes, including participation in trade missions, Export Acceleration Mission (EAM), Country Immersion Mission CIM), International Sourcing Program (INSP) and international trade fairs as well as through capacity development initiatives.
MATRADE, supported by more than 45 offices in major cities across the globe assists foreign buyers in establishing links with Malaysian enterprises by furnishing accurate and reliable information on Malaysian companies, products and services. MATRADE connects individual buyers visiting Malaysia with suppliers or potential business partners and provide advice on doing business with Malaysia.
MATRADE organises a number of international-oriented events in the country, designed to bring foreign buyers to Malaysia to meet Malaysian exporters. Meetings organised during these Incoming Buying Missions between international buyers and local exporters provide extensive business opportunities for companies especially Small and Medium Enterprises (SME) to establish new contacts and expand into the export business.
Contact us to see how quality Malaysian products and serices can help your business prosper. 
MATRADE Shanghai
Mr. Syed Mohamad Fairus Shaik Ismail
Consul
Add: Unit 807-809, Level 8, Shanghai Kerry Centre, No 1515, Nanjing Road West, Shanghai, 200040
Email: shanghai@matrade.gov.my 
Tel: 021-6289 4467
Fax: 021-6289 4381
Website: www.matrade.gov.my