Leadership Workshop | 领导力发展讨论会
16 May 2014 (Friday), Fairmont Peace Hotel
2014年5月16日 (星期五), 和平饭店
China, the world second largest economy, is poised to continue to grow and expected to be the world largest economy not far from now. Businesses are confronted with both enormous opportunities and challenges. Leadership development are increasingly becoming the top agenda of both multinationals and local companies, to take full advantages of the opportunities while mitigate business risks to the minimum.
中国为世界第二大经济体系,随时准备就绪在不久的将来成长为世界最大的经济体。与此同时企业将面临前所未有的机会和挑战。领导能力发展的趋势已经成为各个跨国以及国内企业的主要议程之一,以便能够通过管理方式的提高把握机会,同时也尽能力把企业风险降至最低点。
MAYCHAM Shanghai Master Series is a continuous personal development program tailored to both individual and corporate members to enhance their personal leadership skills as well as overall organizational capabilities. Participants will learn about basic theoretical frameworks of leadership and expose to various management tools. The program is highly interactive where participants will involve in various group-works and to apply communication and team building tools on-the-spot.
中国马来西亚商会-上海专业系列是一个为商会会员提供量身定制的领导力发展培训平台。培训系列的重点为提升个人领导能力,个人能力的持续发展以及提高企业综合执行力。此研讨会将提供学员基本的领导力理论框架及实用管理工具。除此,本研讨会也融入了许多的互动性以及小组作业,鼓励学员现场学习及对管理工具的运用。
Who Should Attend:General Managers, Business Owners, Directors and Senior Managers
建议参与人员:总经理,企业创办人,业务总监,高级经理及企业管理层人员
Venue : Shanghai Room, 8 th Floor Fairmount Peace Hotel,No. 20, East Nanjing Road (Near Zhong Shan Dong Yi Road)
地点:和平饭店,上海市黄浦区南京东路20号 (近中山东一路), 8楼上海阁
Map 地图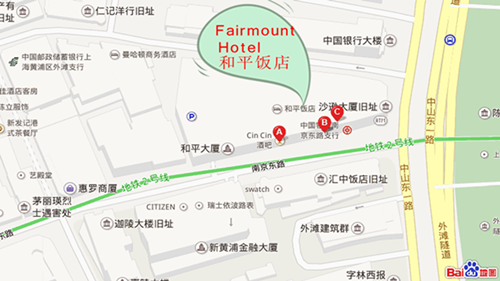 Workshop Program: 议程 :
13:00 to 13:20 – Registration 登记, 议程简介
13:30 to 14:30 – Presentation 基础培训
14:30 to 15:00 – Hi-Tea 茶歇
15:15 to 17:00 – Workshop 小组讨论
Fees 费用:
Maycham Member: RMB250/ per person
马来西亚商会会员:每位250元
Non-member: RMB400 / per person
非会员: 每位400元
RSVP via email to maycham.shanghai@gmail.com or ckojr@yahoo.com by 9 May 2014 (Friday)
答复邀请:在2014年5月9日 (星期五)前, 通过电子邮件回复到以下邮箱地址,maycham.shanghai@gmail.com 或ckojr@yahoo.com
Workshop Instructor: James Ng
培训导师:吴俊财

James Ng is the Managing Partner and President of CEO Advisory Division of Cornerstone International Group,a world leading HR consulting network with 70 offices worldwide located across 40 countries. James has spent some 20 years in China as a top executive in large corporations. His corporate experiences include being President, Consumer Appliances Division of Hong Leong Asia and Managing Director-China and VP Sales Asia Pacific of Beiersdorf AG. In between 2007 to 2010, James served as Managing Director-China of Carlsberg Group where he managed all business units and joint ventures, oversaw 19 breweries and 10,000 employees. In between, he served as Executive Director of AS Plumbing Products (listed at GEM-Hong Kong Stock Exchange), Director of Xinjiang Hops (listed at Shanghai Stock Exchange) and Chairman of Steering Committee, Danone Asia Sales University. James serves as Industry Advisor of Faculty of Business and Finance, University Tunku Abdul Rahman (UTAR) since 2009. He holds an MBA (with honors) from Booth School of Business, University of Chicago and BBA (Honours) from National University of Malaysia (UKM).
吴先生在中国工作并生活了20年.目前是欧信国际集团的合伙人兼中国区CEO咨询部总裁。欧信国际集团是全球领先人力资源顾问公司,全球70个办事处分布在40个国家。吴先生曾担任丰隆亚洲家用电器部总裁及德国拜尔斯多夫中国区董事总经理兼亚太区销售副总裁职务。从2007年至2010年,吴先生担任嘉士伯集团中国区董事总经理,管理国际品牌及所有合资企业,负责19家酿造厂,年销售额4亿美元业务及一万名员工。在此同时,吴先生也是上证所上市啤酒花集团的董事,香港创业版上市AS Plumbing Products的董事及法国达能集团亚太区销售大学委员会主席。吴先生目前是马来西亚拉曼大学财经学院的顾问。他拥有美国芝加哥大学布特商学院MBA 学位及马来西亚国立大学工商管理(荣誉)学士学位。
Follow us on Wechat for more upcoming exciting events!